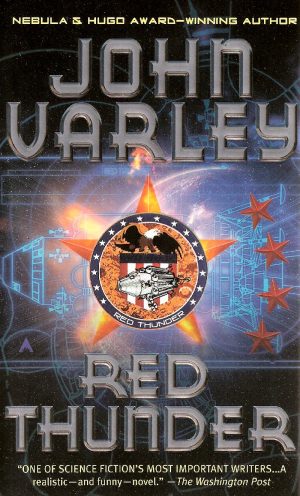 The US space program is effectively over. The loss of the Ares Seven ship was the final blow. Everyone has accepted that the manned Chinese ship, Heavenly Harmony, being prepped for a mission to Mars, will be the first vessel from Earth to land on the Red Planet.
In a deserted warehouse near Daytona, a band of seven suburban misfits – including a Cajun boy genius and a disgraced captain drummed out of NASA – is constructing a spaceship, built out of tanker cars and held together with determination, guts, and all-American ambition. They call her Red Thunder, and they plan to beat the Chinese to Mars, and rescue everyone aboard the marooned Ares Seven as well. What's more, they've geared their beautiful beast to make the trip in just under four days – that's over three million miles an hour. It would sound like history in the making if it didn't sound so insane. Is it possible?
Anything's possible.
In the end, they put their lives on the line, proving that Everyman can be a hero, too. With hilarious, well-drawn characters, extraordinary situations presented plausibly, plus exciting action and adventure, this book should do thunderously well.

— Publishers Weekly
Full of little gems of wit and intelligence if not of plausibility, this will be the first space-advocacy novel to appear after the Columbia tragedy, and no amount of revivified condescension toward the space program will probably keep space lovers from swarming for it.

— Booklist