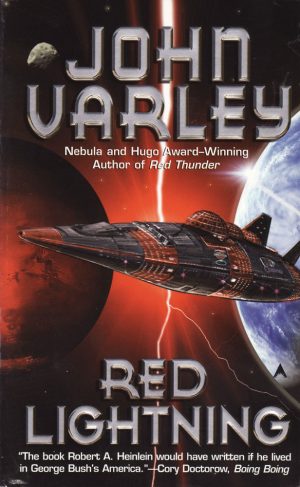 "The heart-pounding space race is on," exclaimed Publishers Weekly about Red Thunder, while The Washington Post called it "realistic – and funny." Now, award-winning author John Varley continues the adventure with a novel featuring a new generation of spacefaring heroes…
"Mars sucks." And if anyone's allowed to say it, Ray Garcia-Strickland is, since his parents, Manny and Kelly, were first to set foot there. Back in the day, with friends Dak and Alicia, they joined forces with a former astronaut and his genius cousin to build a spaceship out of tanker cars and fly it to Mars and back. All to see the red planet become an overdeveloped vacation wonderland for Earthies….
Ray's father is now the manager of the Red Thunder, one of the swankiest hotels on Mars. And Ray has seen his share of gravity-dependent Earthies. Which doesn't stop him from fearing the worst when Earth is struck by an unknown object, causing a massive tsunami. Living high on his father's glory was okay, but now Ray must literally come down to Earth – and help solve one of the greatest mysteries….