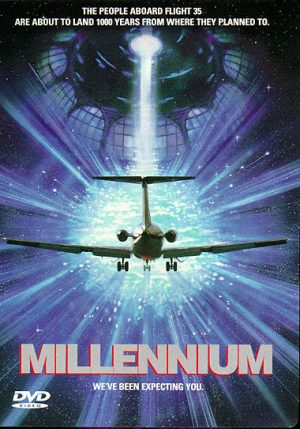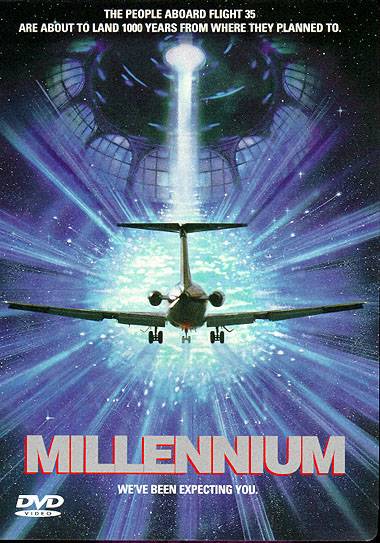 A far-future people reach back in time — to today — in order to survive.
John Varley's screenplay was based on his short story Air Raid and his novel Millennium.
Of his Millennium movie experience Varley said:
We had the first meeting on Millennium in 1979. I ended up writing it six times. There were four different directors, and each time a new director came in I went over the whole thing with him and rewrote it. Each new director had his own ideas, and sometimes you'd gain something from that, but each time something's always lost in the process, so that by the time it went in front of the cameras, a lot of the vision was lost.
Cast
Kris Kristofferson: Bill Smith
Cheryl Ladd: Louise Baltimore
Daniel J. Travanti: Dr. Arnold Mayer
Robert Joy: Sherman the Robot
Lloyd Bochner: Walters
Brent Carver: Coventry
David McIlwraith: Tom Stanley
Maury Chaykin: Roger Keane
Al Waxman: Dr. Brindle
Lawrence Dane: Captain Vern Rockwell
Thomas Hauff: First Officer Ron Kennedy
Peter Dvorsky: Don Janz
Raymond O'Neill: Harold Davis
Philip Akin: Kevin Briley
Susannah Hoffman: Susan Melbourne
Victoria Snow: Pinky Djakarta
Claudette Roche (as Claudette Roach): Inez Manila
Bob Bainborough: Investigator
Cedric Smith: Eli Seibel
Edward Roy: Gantry Controller
Gary Reineke: Carpenter
Michael J. Reynolds: Jerry Bannister
Chapelle Jaffe: Council Chamber Member, Stockholm
Christopher Britton: Council Chamber Member, Buffalo
Gerry Quigley: Council Chamber Member, Khartoum
Leonard Chow: Council Chamber Member, Beijing
Jamie Shannon: Young Bill Smith
Yank Azman: Evacuation Leader